One of the things I really love about living in Austria is the wonder of seasonal events that fill the calendar. Come to November and things turn to all sorts of Goose like goodness. St. Martin's day falls on the 11th of November and traditionally, a meal of Goose is eaten. I've not had the pleasure of eating Goose, so this year, Lynda and I decided to try it out.
History.
There are various different stories and meanings it seems for St. Martin and the Goose. The main tale revolves around St. Martin, who not wishing to be ordained as a Bishop, hid away in a Goose roost, only to be given away by the cackling of the Geese. I guess that's why we eat the goose then. Other's say that St. Martin's day marks an end to the autumn harvest and a time of celebration. Either way, its an excuse these days for people to get together and enjoy good food, good company and a wee drink of the Neues jungewein or the new young wine bottled just a few weeks ago.
MartiniGansl, Wiener Wanderland style.
Finding a place to enjoy MartiniGansl in the city isn't exactly difficult. our local Gasthaus started taking reservations in late October. Going there would be far too easy. Instead, we decided to make a real experience out of it. Mid-November marks our wedding anniversary, so this year, just a few days before the happy occasion, we booked a MartiniGansl meal with a twist. Rather than popping down the road, we're boarding a classic train and heading north into the hills of the Waldviertel, on the one and only MartiniGansl Express
Our journey begins at Wien Praterstern Bahnhof at 17.00. We meet the Regiobahn train on the platform. A classic diesel engine sits at the front of the train, pulling a selection of 1960s restored passenger carriages, resplendent in a lovely blue and cream livery. A guard views our tickets and we head to our assigned seats. our carriage is as toasty as the cool side of a volcano but cosy none the less. The classic feel it's excellent. Around us, plenty of others have joined us on the trip and some have even brought with them a little picnic basket of wine and glasses to set the mood. At 17.15 we set off, heading north.
We stop at Floridsdorf to take on a few extra passengers, then we leave Vienna and pass through various towns along the Danube. We stop at two other stations to pick up a few others. We also discover a bit of a thirst. Unlike some of our fellow passengers, we've not thought to bring a little bottle of wine. Luck is on our side, however, and I spot a passenger who passed our seats returning with two bottles of beer. Like a shot, Lynda is out of her seat and in search of the restaurant car. She returns five minutes later with the beer and a stunned look on her face. There's no restaurant car, but there is a bar. Actually its more than a bar, its a nightclub. Sure enough, one carriage has been turned into a mobile disco, complete with disco lights and pumping rock music. It's certainly unexpected.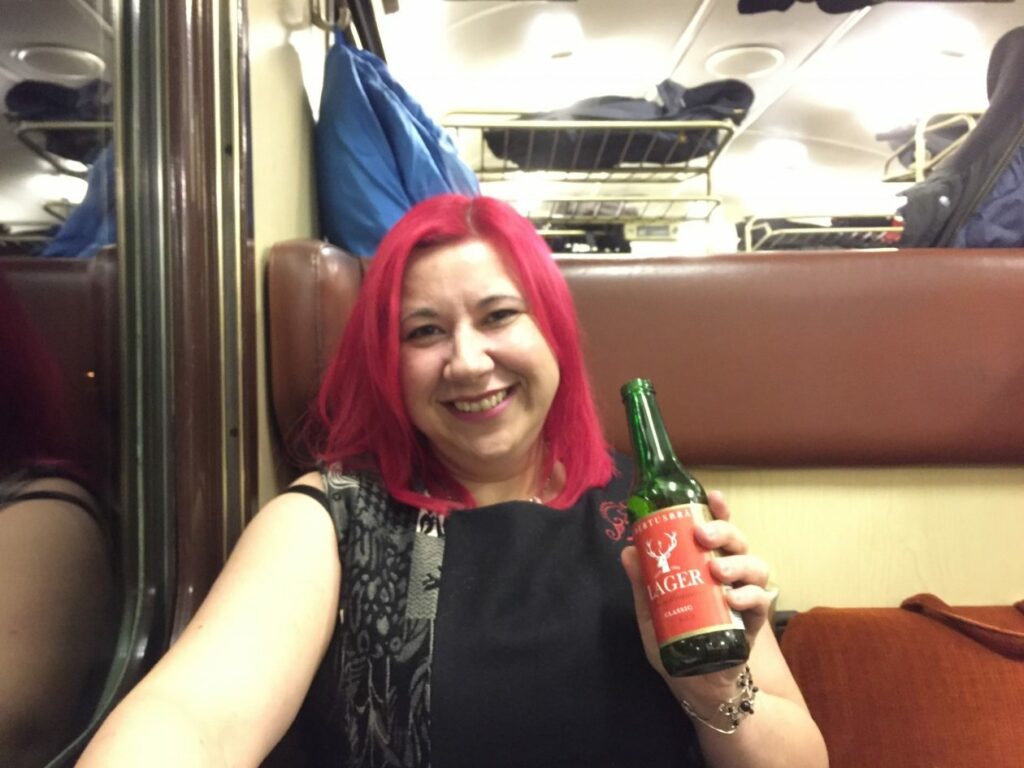 All too soon we arrive at our destination. We disembark the train in what can only be described as the middle of nowhere. There's no platform or station, just a mobile step at the last carriage and bus. We board the latter for a short journey to our meal. On a very unassuming street, we reach an unassuming looking restaurant. If you didn't look carefully at the discreet sign hung outside, you'd never know this was a restaurant. We head in, walking up a set of steps, then turning right and up a further set of steps, reaching the main and only dining area. There's room for around 100 people at a push. It's cosy. It's also around 1000 degrees. We find our seats and I for one and relieved to discover we're next to a window. The people next to us have already opened it. Sadly it opens but a fraction, but it's enough to let the occasional breath of cool air in.
Now we're sat, the drinks orders are taken. We start with a glass of Gruner Vertlinger. Gansl soup is our starter. A broth of Goose with chives and a dumpling is surprisingly tasty. I'm not always a fan of clear soups, but this proves to be a nice start to an evenings meal. The soup gets cleared away and one by one, the main course begins to appear. And oh what a main course it is. A large plate arrives with what looks to be a whole side of goose on it. The Goose is a perfect shade of cartoon golden brown. Then there's beautifully crimson red pickled cabbage, a perfectly sliced half a baked pear, its centre filled with a red currant jam. Add to that two potato dumplings and a small side salad and you're done. Finally, as a side dish, there's a serving of Gansl saft to add as well. Despite my hunger, my stomach lets me know I won't be finishing this tonight.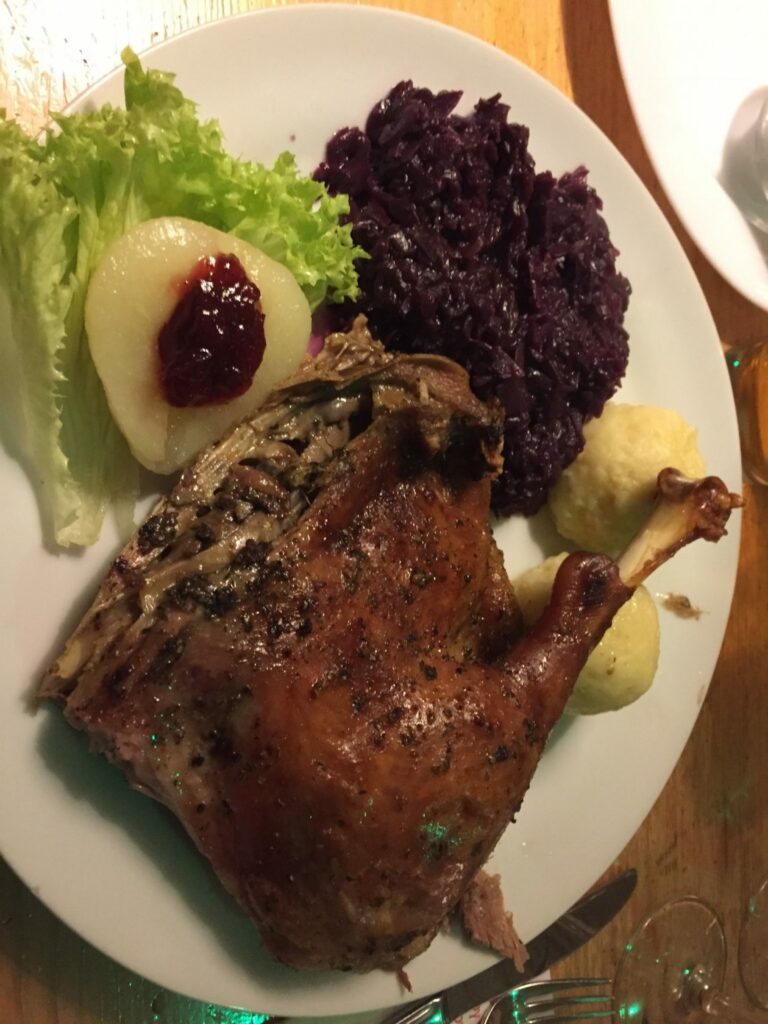 My first taste of Goose results in a near orgasmic moan. It's crispy skin combined with the dark flesh make for a simply delicious taste experience. The cabbage is also divine, being both slightly sweet and savoury at the same time. The dumplings act as a sort of pallet cleanser, but all too soon, they begin to fill you up. I never got the pear or the red current jam, and in the end, I left plenty on my plate despite eating more than I probably wanted. It's rich and ultimately deeply filling.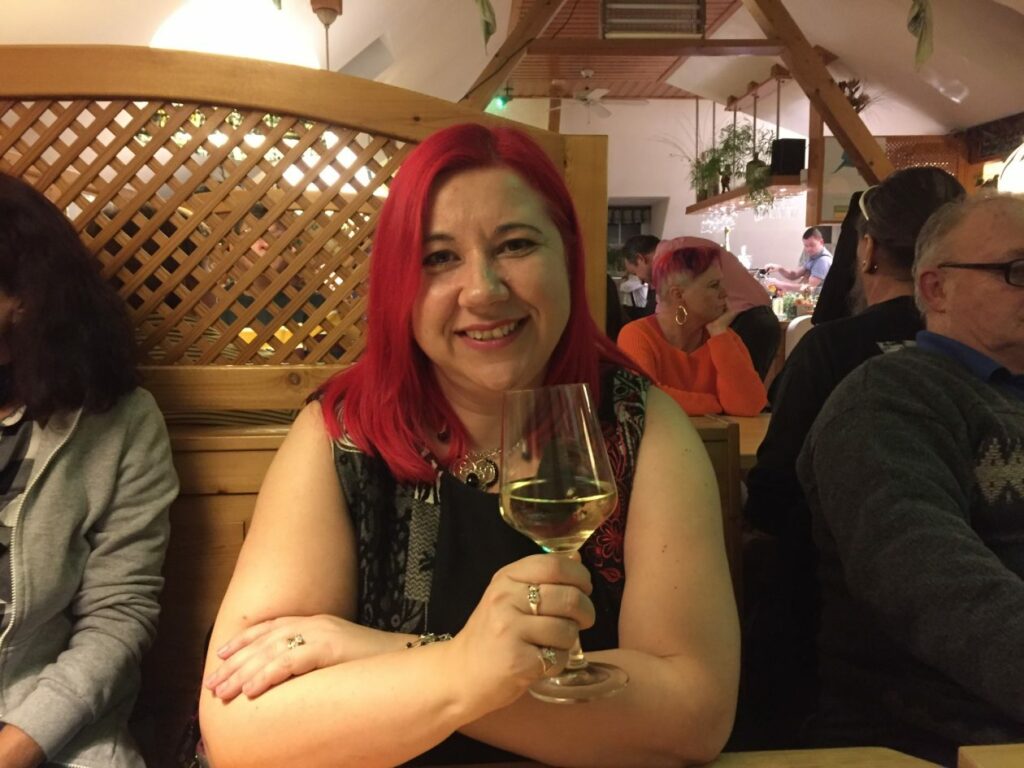 With the Gansl slowly sinking to my feet, we get a break and grab some air. Upon our return, its time to sample this year's new wines. 2017 is wonderfully sweet and the perfect thing to clear away the greasy goose. For those with enough room, orders for desserts are taken but all I want is a cold drink and a sit-down. The evening then begins to wind down as service finishes and we're treated to a wonderful bit of stand up from our host. For ten minutes, he plies us with funny story after funny story, and although we don't speak enough German to follow everything, humour is a universal language and we get caught up in the atmosphere along with everyone else. Later we chat with him, us using our best broken German, him using his best broken English. Being the only non-Austrians's there, the whole staff made a huge effort to make us feel welcome.
Full and a little merry, it's soon time to re-board our bus and get the train back home. Once we're sat, we pop to the disco car, grab two beers and settle into the last carriage. We dim the lights, cwtch (Welsh for cuddle) up and watch the nighttime world pass the window.
All in all, the night was one to remember. Rather than enjoying a local meal, we got a much more intimate experience riding the Gansl Express. We plan to do the same thing next year, we enjoyed it that much. Huge thanks to Regiobahn who organised the whole thing and to our hosts the Family Holzinger for their fantastic food and wine.
Further Reading.
For more details of Regiobahn's tours and excusions, check out the link below.
https://regiobahn.at/ausflugsfahrten/