It's an exciting time this week, as for the first time since August 2020, We venture beyond the Vienna city limits. We're heading south to the town of Mödling, just outside the city limits.
While COVID restrictions remain in place, we can travel on public transport with FFPN2 masks on, and with shops and attractions now able to open, it seemed like a good time to stretch our legs.
Mödling History.
Mödling is just a 25-minute train journey from Vienna Hauptbahnhof and has a reputation for being a great place to go hiking. It also has a rich history, dating back to the Neolithic period, though I'm not sure that's much help today. In more modern times the town has seen its beautifully preserved centre protected under the Hague Convention. With frescos that can date back to the 13th century and many buildings from the 16th century still in use, Mödling is a rather pretty town.
Aside from the town itself, there are several castles in the area, a large aqueduct spanning a valley, and plenty of churches, monasteries and more to enjoy. So let's take a look.
Arrival.
Starting at the train station, your first impression is rather nice. The town has slowly expanded over the years, with the arrival of the railway in 1960 (replacing the number 360 tram that linked Mödling with Vienna.) being a catalyst of sorts. So the area around the train station is modern but pleasant. We head to the main high street and work our way in. It's not long before you start to come across street art, and as buildings get older, the art becomes more visible.
We reach a park and the first of the town's museums. The Museum was open, but today was all about exploring a new destination. Simply known as the Museum Mödling – Thonetschlössl, the museum's current home dates back to 1631. The Museum itself didn't take up permanent residence until 1965, with the building having a rich and varied life as a police station, theatre, a chemical bleaching plant and more, including being the district museum back in 1931. Behind the Museum is MuseumPark, a lovely bit of green space that features a mix of sculptures, playpens and park benches that works wonderfully as a multigenerational relaxation space.
Old town and more.
From the Museum Mödling, we follow an older road, Klostergasse and find ourselves in the 16th century. Here are many buildings that still look as they did centuries before. The Volkskundemuseum or folk museum is found here, and we put that on the 'must do' on our next visit.
Klostergasse brings us to the Pestsäule or Plague column. these are a common sight in Austria, and most places we've visited seem to have one. As their titles suggest, these monuments mark the town or cities remembrance of the time of the great plague. Coming from the UK, the plague is most easily remembered by the children nursery rhyme 'Ring a ring of roses. In Austria though, these giant monuments, all featuring a large golden sun at the top serve the same purpose. This Pestsäule was erected in 1714 to mark the end of the plague, which claimed 90 lives in Mödling. It stood until 1909 when a storm broke the centre column and was repaired. In 2007 it was taken to pieces for a full restoration. Over 500 pieces were repaired, with the fully restored Pestsäule blessed once again in 2008.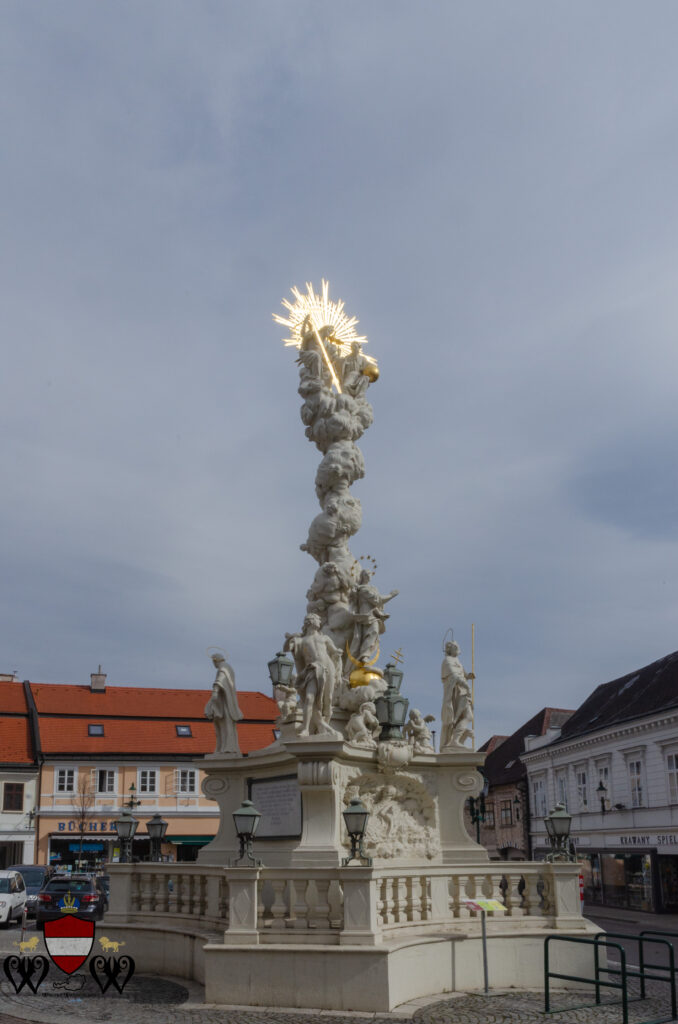 Moving on from the Pestsäule, we finally reach the centre, and it's very pretty. The large pedestrian square has the main town hall and lots of space to stroll. It was one of the first Bundesstraße in Austria to be pedestrianised, back in 1976. The town hall is pretty, and as it holds the main records office, Mödling has become a bit of a wedding town. There are little places to grab a coffee, great places to eat and a few places to just sit and watch the world go by.
COVID has closed most of the restaurants and reduced a chance for a coffee and piece of cake. That said, we arrived at Cafe Kanzlei who are serving fresh cakes and coffee to take away. More intriguingly, is the sound of a live piano being played, emanating from inside. Curious, and in need of a coffee stop, we investigate. Sure enough,. inside this beautiful period cafe, there's a modern version of the player piano, playing away to itself. The piano is just the bait, as the cakes are to die. As our barista makes our coffee's we eye up the cakes in the cabinet. Even in COVID times, you should check out Cafe Kanzlei for excellent coffee and sweet treats.
From the Cafe to the theatre, and just a short walk away is the beautiful Stadt Theatre Mödling. Built-in 1912 and resplendent with a gorgeous Art Nouveau marquee, the theatre is home to a repertory company and features over 100 performances in any given year, with obvious exceptions of course. We love theatre's, mostly because we're both theatre brats, so a beautiful theatre like the Stadttheatre always makes us smile.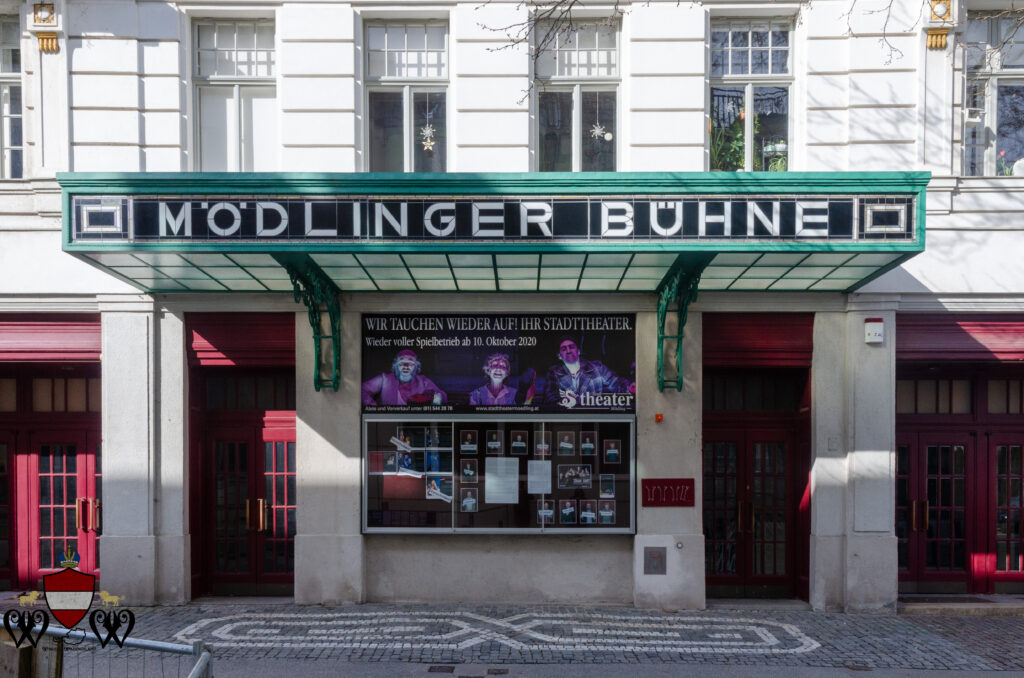 Across the road, we spot a little antique shop that specialises in model railways. Railways are hugely popular in Austria. In the window, the shop has a full size set up. If you place a coin in the slot, the whole thing comes to life. Sadly we didn't have change, but the main station on display did make us giggle.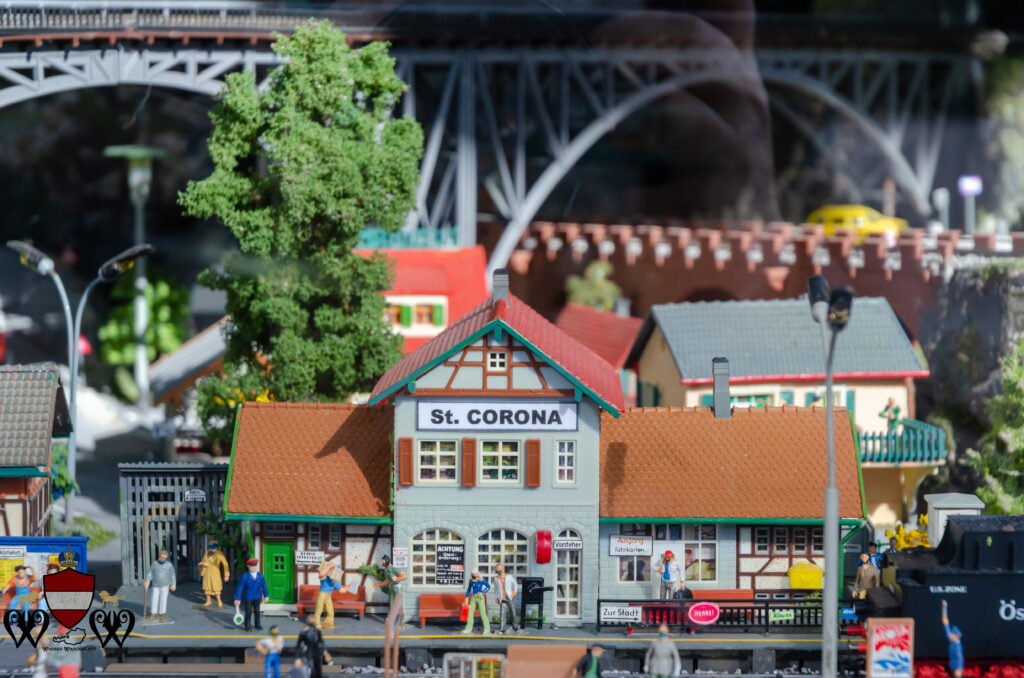 Up we go.
As the day began to grow long, we headed up. The large Catholic church is an attraction by itself. Old statues, plaques and grounds that offer great views across Mödling make this a great stop off as you climb ever higher into the forest. With just a little more climbing we find a fantastic view across one of Mödling's major sights, the Aquädukt Mödling. Construction began in 1970 and was completed two years later. At 190 meters long the Aquädukt stretches across the valley and provides water for Vienna to the north. Surprisingly it's still in use and thanks to a unique restoration undertaken between 1999 and 2004, the whole thing looks brand new.
By now the sun was getting low, and the wind was getting up. Despite the blue skies and warm spring temperatures, a chill was spreading and we decided to call it a day. We missed out on the final climb to the Schwatzturm, deciding to save exploring the forest in the warmer weather when gastro may be more open.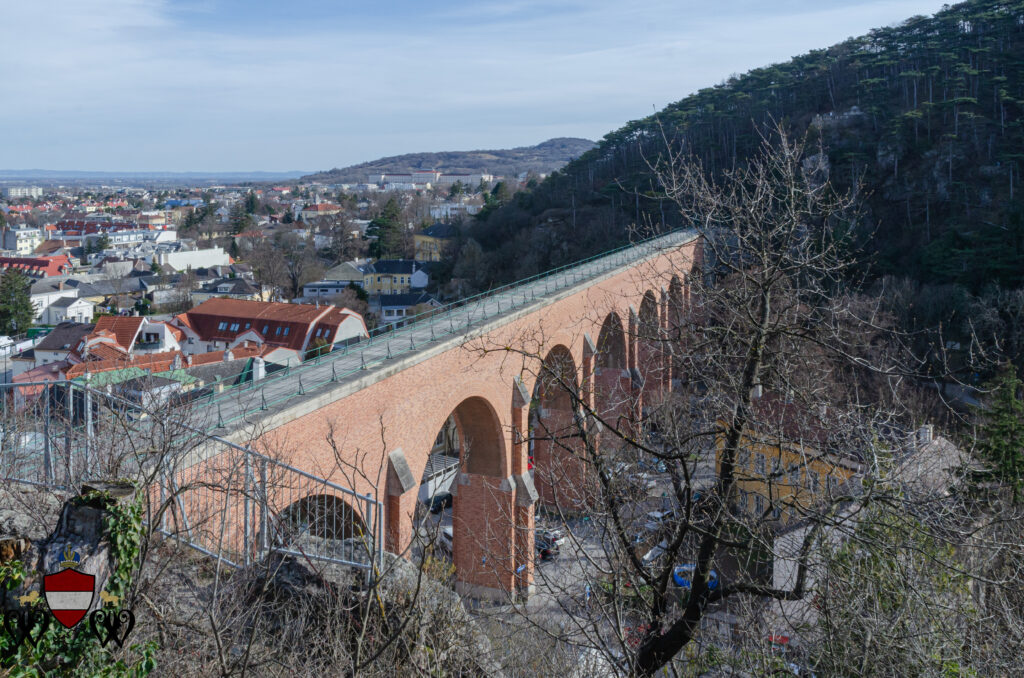 Summing up.
Mödling has been a great day out, despite the various COVID restrictions. A revisit when it reopens properly in the summer is definitely needed. We're also curious as to the Mödling Dragon, a figure turns up on the town crest, the Stadt's own logo and even the Stadt theatre. Being Welsh, we're all about dragons, so we'd love to know more about this particular Dragon. Dragons aside, Mödling is a great place to visit and it feels like a world away from Vienna.
Getting There.
Getting to Mödling couldn't be simpler. Trains run regularly from Wien Mitte, Hauptbahnhof and Meidling. The S2 service terminates there while various other services stop at the station as well. Journey time is just 24 minutes, dropping to 19 minutes if you catch one of the REX services heading south. Ticket prices are just 4.80 euro each way. If you have a Vienna zone pass, this drops to just 2.40 euro.
Further reading.
If you'd like to know more about Mödling, check out the tourist office, who will be more than happy to answer any questions about your own visit.
https://www.moedling.at/info_service_Moedling_-Herzlich_Willkommen