I'm heading out of the city once again. I'm actually looking forward to this trip a lot. My partner and I live next to the rail line in Simmering. It's a great spot with plenty of open skies. Since we face the rail line though, we get to enjoy (I use the word here to mean "you learn to enjoy it") watching all sorts of modern trains zoom past to Prague, Bratislava and more. Along with all these very swish, very modern trains, twice an hour, a tiny little diesel train chugs past. Looking like a refuge from the 1980s when trains were modelled on lego bricks, it passes one way just before twenty to the hour, and another chugs back just after the hour. This curious little train heads to Marchegg, a small town right on the edge of Austria. Being curious, I had to take a trip there. So I did.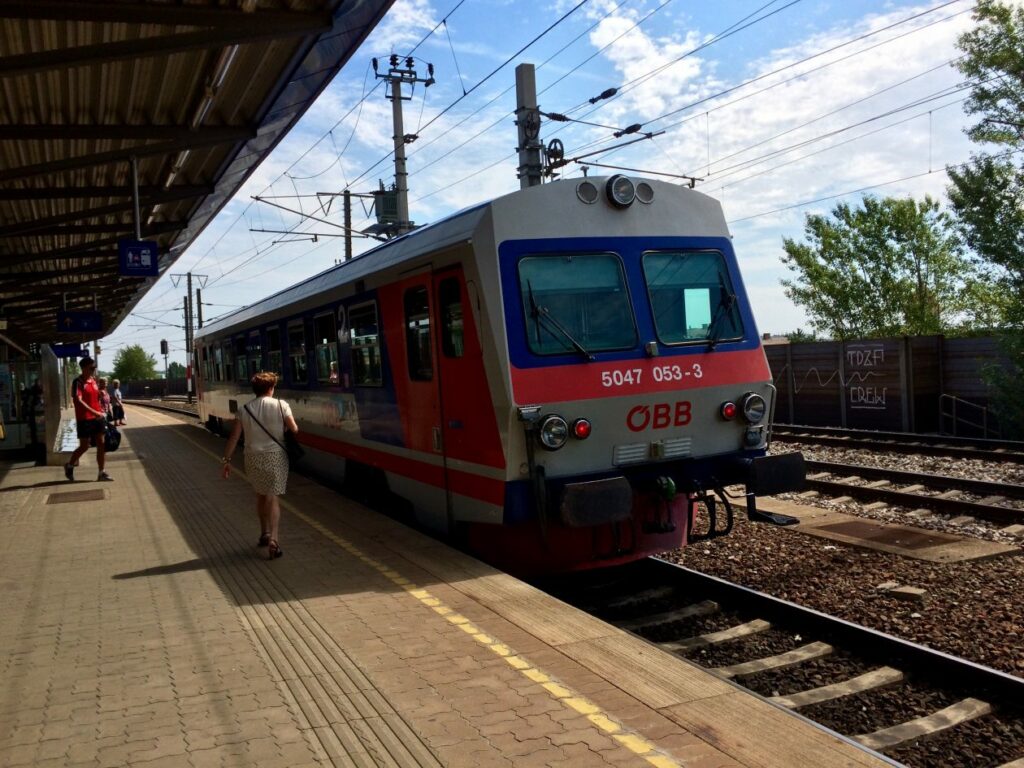 I can catch the bigger, faster Bratislava service which gets me to Marchegg in just 37 minutes, but I really want the little fella to deliver me. Boarding the train, it's soooo quaint and old fashioned. The seating reminds me of a sofa my family had in the 1980s. Essentially, its brown comfy armchairs, and they are very comfy. A little research tells me this little train is much younger than it looks. The last of these trains were made in 1995. Perhaps it's auditioning for a role in the next season of 'Stranger Things'.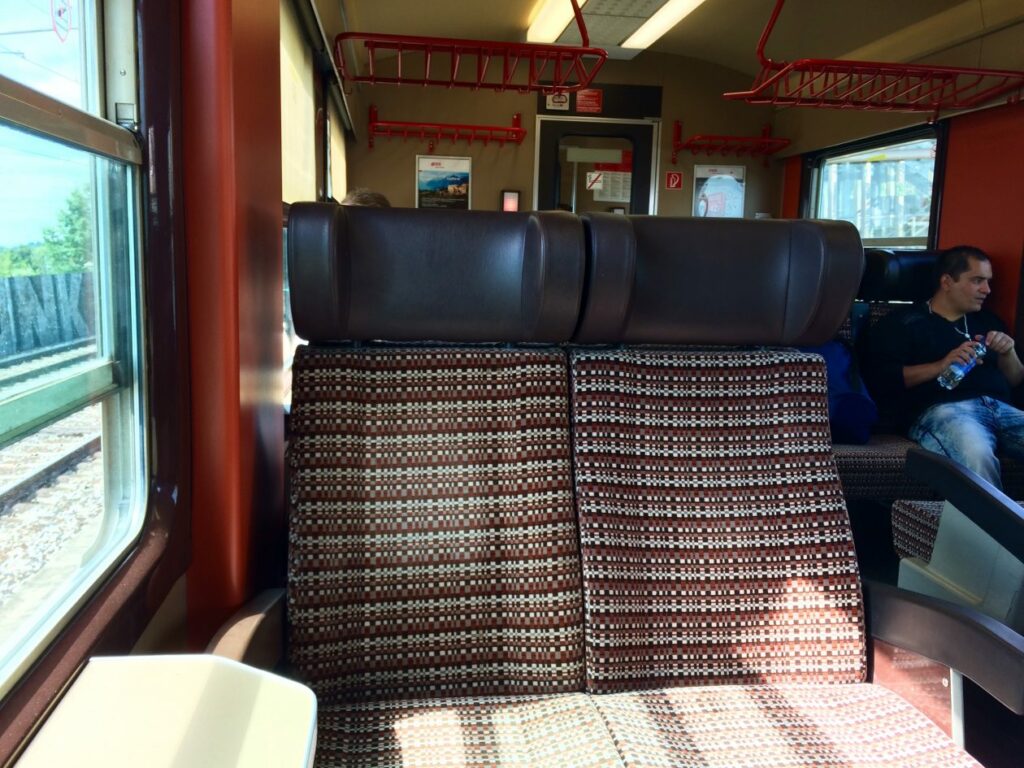 As we leave Simmering, I settle in. The journey is slow as we stop at every stop along the way. It doesn't matter though, I like the tiny little stations. Vienna falls away and I'm soon out into the flatlands. I arrive after 50 mins and disembark. The station is quiet and quite large considering. It's also very new looking. Anyway, I'm not here for the station.
Marchegg is a little odd in terms of layout. It's more or less split in two, with the older, more central part of Marchegg a few kilometres away from the Bahnhof. To get there I decide to rent a bike and cycle to the centre. It's a brave decision. Nextbike is a company that specialises in having bikes, ready to go all over lower Austria and Burgenland. For just €1 for an hour or €8 for 24 hours, you can hire a bike with a smartphone. In Marchegg centre there's another rental station that I can drop the bike off at, so it'll cost just €1 each way. The bikes are fine for a simple ride, but for longer runs, they become 'unsuitable', mostly due to only having three speeds. Earlier in the year, I had the dubious pleasure of renting the same style of bike in Eisenstadt. After a 30km ride, I'm still walking funny.
Bike rented, I head off, painful memories flooding back. It's not to bad. It's hot but not too hot and the route is completely flat. It's also wonderfully quiet. As I cycled along I got my first taste of life outside Vienna. I pass a small boy as I ride and he wishes me 'Gruß Gott.' A common greeting in Austria. I return the favour, a little surprised. That doesn't happen in Vienna. After twenty minutes I reach Marchegg centre and return the bike. Now I'm really hot and in need of a cold drink and a sit-down. I find a bench and crack open my cola bottle. Thank god for freezer packs and cold bags. I'm sat outside the Schoss and across from the police station. It's noticeably quiet and peaceful that I take my time cooling down. At the police station, I spot what I thought was a decoy bird positioned on the roof. I've seen this kind of thing before, where a fake bird is used to scare off other birds. This giant stalk statue must be there to scare off pigeons or something. Then it moved. It's a real stork. In Wales, I used to see the river Herons, but this is the first time I've seen a stork. It won't be my last.
Breath recovered, I head into the Schloss for a look around. It's small but sweet. The inner courtyard is filled with a giant stage and lots of seats. Sound checks are going on. It turns out that all through July, the Schloss hosts an open-air theatre. Two plays are available, including Shakespeare's Scottish Play (I'm not saying it, I've spent far too long in the theatre to do so.)
It's all good though, and I wander out of the grounds following a sign to a row of old cottages that shouldn't have looked out of place in my own country of Wales. I believe there are stork nesting grounds further on, but I decide to leave the birds in peace and head back towards the village centre. There's a definite feeling of age here. The village is still surrounded by the remains of the castle walls. It's still quiet though.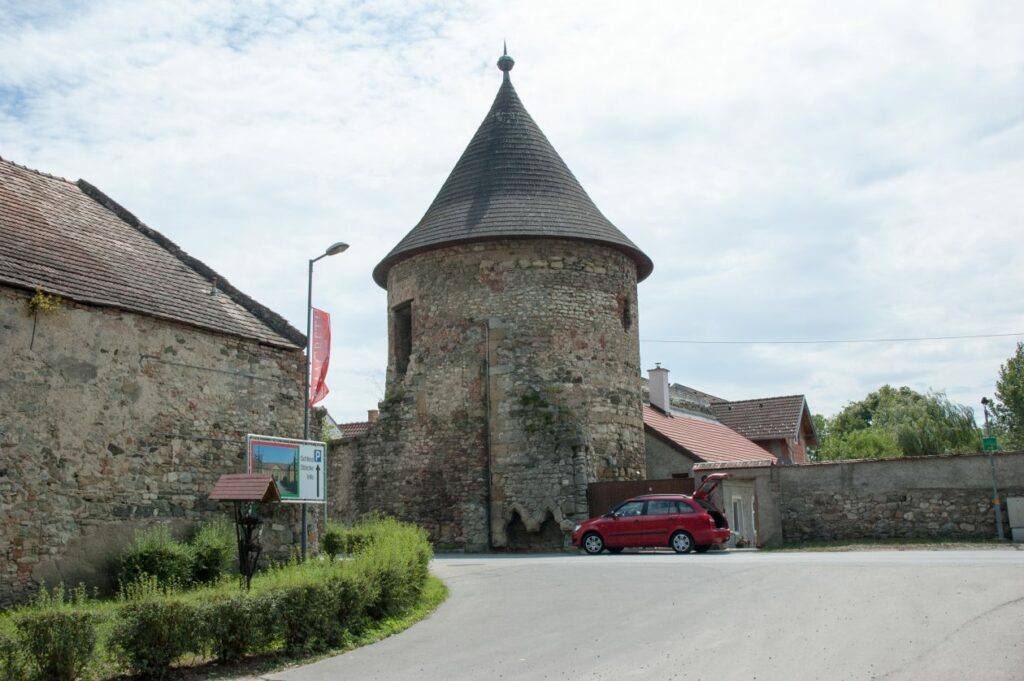 I head to the village square and find several sculptures. There's the usual Catholic Saint of course. It's not surprising as Marchegg is home to a modern monastery.
The second sculpture is a surprise though. A model of the solar system sits facing a boat across the road. The little plaque with it helps make sense of the scene. Marchegg sits low in the surroundings and has a large river flowing next to it. In the past, where I'm stood, it has flooded. The Boat across the road was the same kind they used to get around during the flooding. Today I think the river has been sorted and modern flood protections in place to keep this pretty little village dry.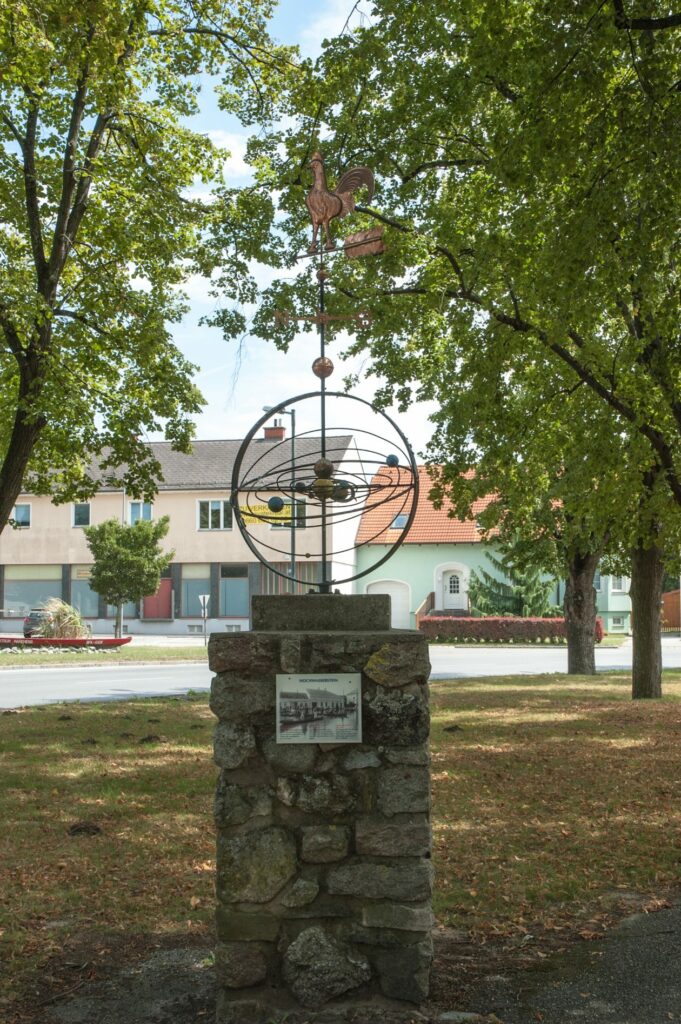 Speaking of rivers, I set off in search of the waterway. It's not that far. Within 5 minutes I'm standing on a large riverbank, overlooking the River Morava. Like many rivers in this part of Central Europe, it's a tributary for the Danube. Here it has a second purpose. The Morava acts as a land border for Austria and Slovakia. So the far shore of the river is another country and this is as far as I can go in Austria right now. It's a strange overwhelming yet underwhelming sight really, no different than crossing the Severn Bridge from Wales to England, except for the €7 toll. Next to me stands a tall edifice with the imperial Eagle of Austria casting a watchful eye over the border. It's all that marks the edge of the country. It's inscribed with something, but time and my poor German let me down. I suspect it's a memorial of some sort.
I head down off the banks of the river Morava and return the Marchegg Stadt. There are still a few things to see. It's getting really hot though, and my thoughts start turning towards lunch. I hope I can find a decent lunch spot today with a nice bit of shade. As I stroll, I pass another person who, without any prompting, greets me with Grüß Gott . I return the greeting and marvel at how a simple act can cheer everyone up. In truth though, I suspect I've stuck out a bit wandering around Marchegg. I don't think they see many strangers, dressed all in black wandering the streets with a camera and a parasol. To say I'm conspicuous is an understatement. I don't care though. Around a corner, I find my perfect lunch spot, a lovely little bench under the shade of a tree, facing a little green and an old church. Church's are starting to form a theme on these journeys, and why not. The church and I may not agree, but that doesn't mean I can't appreciate the history and the beauty of the place. I won't enter to take pictures though, out of respect, and I don't feel that comfortable.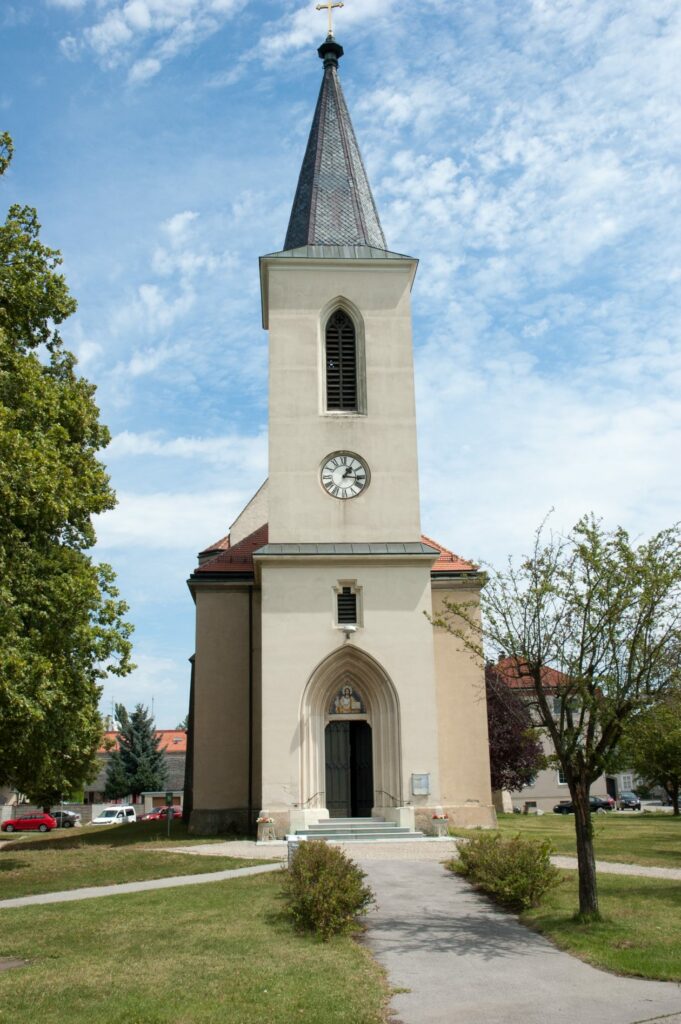 The view is splendid, the lunch merely ok, mostly due to the heat. I eat what I can and then just rest. Yet another passer-by greets me and I'm surprised to see a bus service arrive. Where was this when I rented that bike! Feeling well-rested, I get going again to see the last of the village. I cross a street next to the fire station and walk down a short street, spotting a building with a beautiful mural depicting farming (I hope that's what it was).
Then I turn left instead of right and end up in a nice residential street. If I felt conspicuous before, wandering down a residential street with a camera in hand in a small village does wonders for boosting your visibility, even if it's only in your own head.
I stick with it, reach the end of the street, cut back across and head up a parallel street quickly, returning me to the church. By now I'm three ferrets thirsty, hot and in need of another sit-down. I follow the road back to the main village square and retire to the local cafe, the family-run Stadtcafe. I sit outside under the shade of a parasol and order a beer. At €3 it's one of the cheapest I've ever had. It's good too.
The beer is finished and so am I. I cross the road, regent the bike I arrived on and head for the station. The 20-minute ride back is less pleasurable than the first, and infinity longer, but it still costs me a €1 and that included a stop at Billa for more liquids. The bike returned I discover I have 30 minutes to wait for my train. That's ok.
All in all, it's been a great day in Marchegg. It's wonderfully friendly, fiercely quiet and delightfully pretty. The storks are a great attraction and the beer is cheap. All in all, well worth the trip. I may come back when it's cooler to explore some more.
Getting there.
Getting to Marchegg is simple, There's an hourly service from Vienna Hauptbahnhof, and you can also catch the Bratislava Hlavná Stanica service which is quicker every hour as well. Jourrney times vary from 37 minutes to 50 minutes.
Further Reading.
If you'd like to know more about Marchegg, what it has to offer, and more about the Weinviertel, check out the link below.
https://www.weinviertel.at/alle-orte-im-weinviertel/a-marchegg?category[]=recreation