Lindau is beautiful. I know that summing up in the very first sentence isn't the way these kinds of articles are supposed to go. The fact remains though that Lindau is beautiful. I found myself spending the weekend there a few years ago for work. I didn't pick Lindau because of its beauty. I picked it because it was cheaper than staying in Friedrichshafen where I was to work, and it was also cheaper than the Austrian City Of Bregenz, just a few miles away. I had no expectations, just that it would make a nice base to head to Friedrichshafen the following morning. So on a Friday afternoon, after a long trip from Wien on a Railjet, and a change at Bregenz, I arrived on the tiny island.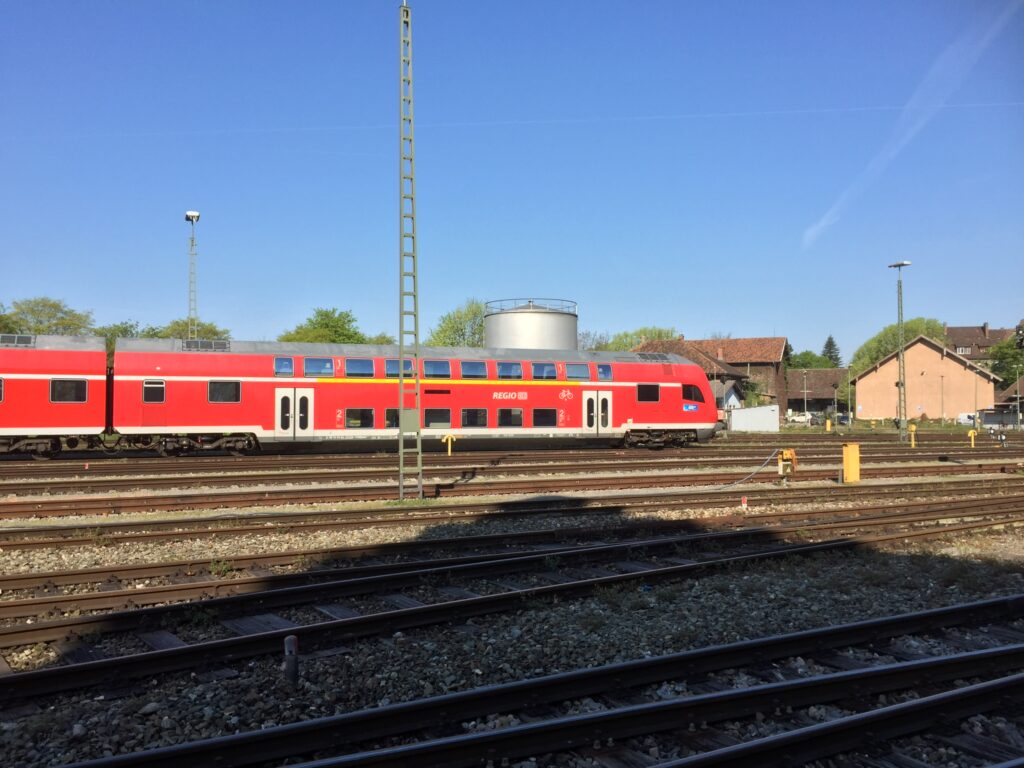 Lindau is a small island that sits on the beautiful Lake Constance, or Bodensee as it's more commonly known here in Austria. Part of the German state of Bavaria, the island can trace its roots back to the 1st century, Where the remains of a Roman settlement have been discovered. Over time there have been monks from St. Gallen, been proclaimed an Imperial Free State by King Rudolf the 1st, lost their status as an Imperial Free State and given to Austria, For a year, then returned to Bavaria. And that only brings us to the start of the 19th Century. Phew. It's safe to say Lindau has a history then. Today, the medieval town is a draw to day-trippers and holidaymakers alike.
My train arrives at the station on time. It's a short 10-minute journey from Bregenz Hauptbahnhof, and the train follows the lake before it heads out onto the bridge that joins the island to the mainland. First impressions are goodish. The original station building is still here and it's a protected historic building. Built between 1913 and 1921, it still oozes charm. ÖBB operates services from here that takes you back into Austria and all the way to St. Margareten in Switzerland. Mostly though you'll see various regional DB trains that head all over Germany.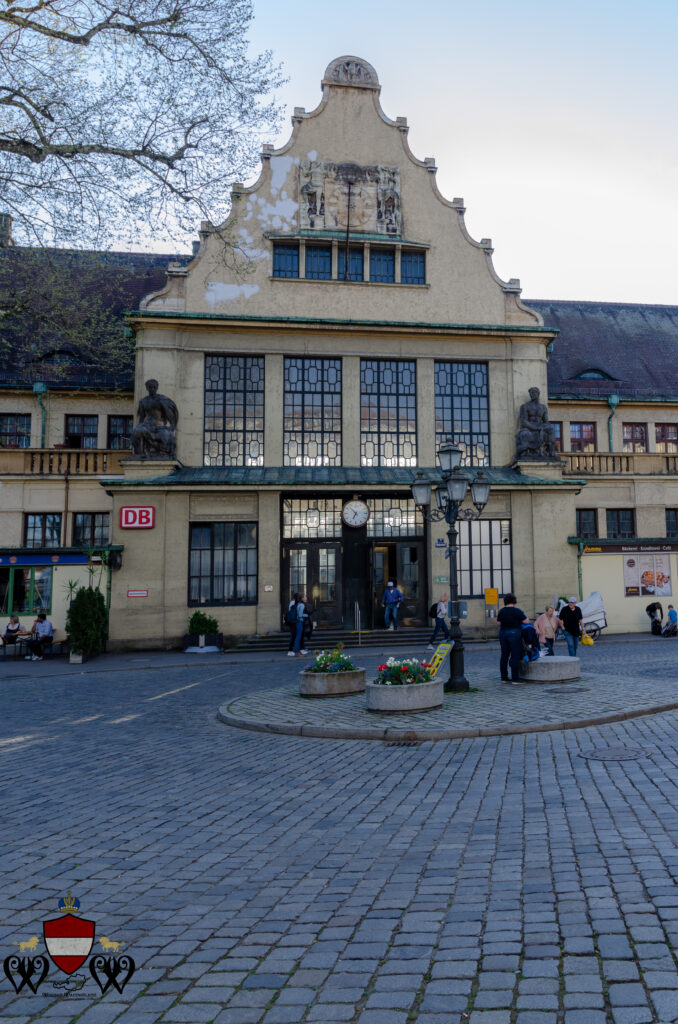 From the station, the streets become narrow and winding. Cute little shops and cafes make up the cramped streets, and you can often find a large open space around the corner, without warning. I make my way to my hotel, the Hotel Gasthof Stift Lindau, a nice cosy hotel just a few minutes walk from the harbour. It sits next to an old church in Marktplatz and is a nice spot to catch the evening sun.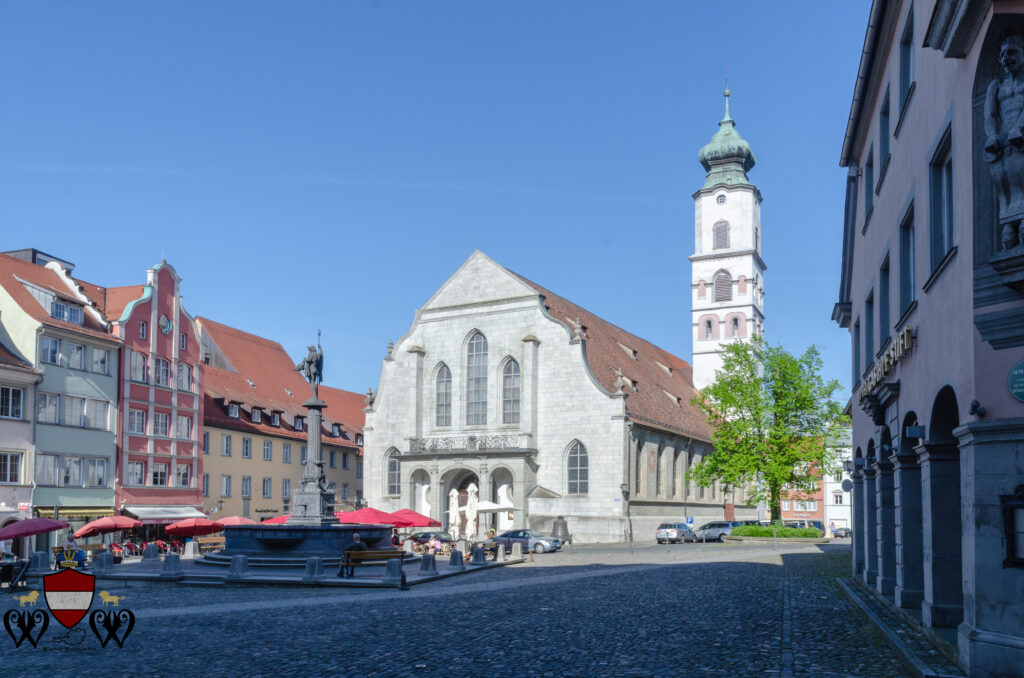 I drop my bags off and head back out with my camera. For April the weather is uncharacteristic warm. From my hotel, I wander the streets and marvel at the wonderfully laid-back feel of the place. During my travels I come across the Altes Rathaus, and what a sight it is. Built in 1422, the whole thing was rebuilt in 1576 and the renaissance design is evident. A 'staircase gable' was added to the roof and the bell was added in 1617. A stunning open wooden staircase leads people up to the first floor. There's a stunning old clock and the whole thing is beautifully painted. It's picture-postcard stuff, and it sets the scene for the rest of my visit.
From the Altes Rathaus, I reach the harbour, and it's a beautiful thing. The small harbour has two walls that lead to the entrance, and a lighthouse on the right wall, and a large lion statue guarding the left. Beyond are the Austrian Alps that lead into Lichtenstein and Switzerland. It's the perfect place to stop for a while, order a beer and just soak in the view. So I did. I grab a beer from the Seaport Cafe Graf and just watch the world pass by.
In front of me is the Mangturm, the original lighthouse for the island, and first built in the 12th century and continued to keep sailors safe until the mid 19th century. It originally formed part of the city wall. After its retirement, it was decorated with a tall, glazed tile roof. Today it's a great sight in the harbour.
Leaving the harbour behind, I took a stroll along the shoreline, finding a simply stunning view across the lake, taking in the Swiss Alps. Again you could just sit and soak in the surroundings. Out on the lake, a few people are enjoying a canoe trip. The amount of green space is excellent.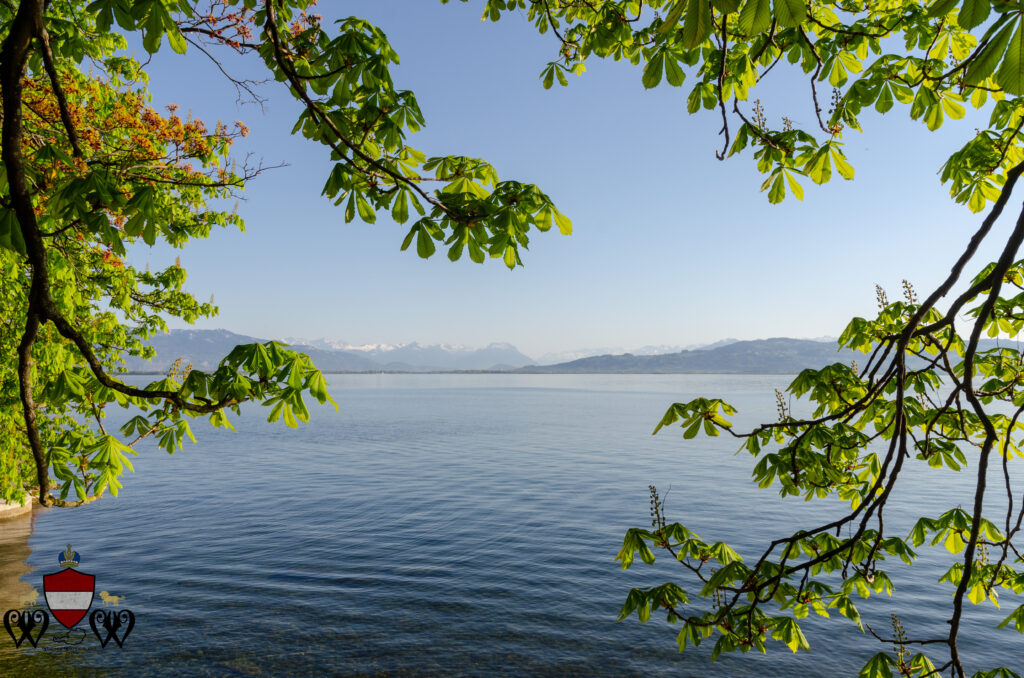 Food and drink.
Since I was in Lindau for a longish period of time, Food and drink become an interesting point. There is no shortage of places to eat, most are tourist trap style, with lederhosen, big beers and good service. However, I found a great place at a local hotel that is far from the average Gasthaus meal. I headed out to the Hotel Engel, which was recommended by many visitors. The hotel is tucked away in a cosy side street and offers food for non-residents. You'll be served by girls in Dirndls or guys in Lederhosen, but the food is a cut above. I choose a very Austrian meal, Zwiebelrostbraten, A kind of steak with deep-fried onions, rich sauce and pan-cooked potatoes. It's always a delicious choice, but here, the Hotel Engel has changed up the traditional beef steak. In place of beef, they have bio reared Ox and it's delicious. I couple that with a local beer, served in a traditional stone bake mug. The meal arrives on three plates, with the Ox taking up the largest plate. The BratKartoffel comes in a bowl and a small side salad in a second bowl. The salad remains uneaten as I soon begin to fill up. To date, this dish remains my favourite version of Zwiebelrostbraten.
For a quiet drink, be it wine, beer or coffee, I found my favourite cafe in Lindau. Just a few steps from my hotel. Il Cavazzo or Museumcafé is situated in a gorgeous little courtyard that oozes charm. The Teas and coffees are readily available, though on the day I called in, I enjoyed a summer Hugo (White wine spritz with Hollaunder syrup). It's the perfect little hideaway to relax with a slice of cake as well.
Accommodation.
Accommodation on Lindau is plentiful, though it can be useful, and there's a premium on rooms on the Island compared to those across the water. That said, my single room at the Hotel Gasthof Stift was a reasonable €165 for two nights, and that included an excellent breakfast. The room was small, a little dated, but plenty for my needs. One thing to note that I discovered staying at the hotel, is the church clocktower next to the hotel, begins ringing at 06:00 and rings every 15 minutes. Just be aware of it and use earplugs if you like to sleep in.
Summing Up.
I began this article by stating Lindau is Beautiful. It's hard to go beyond that. The Island makes a fantastic base to explore the lake, from Friedrichshafen to St. Gallen, Bregenz and If you push further, Konstanz itself. the Island is quirky, diverse and a great place to enjoy some fantastic local foods, drinks and other produce. It's also a great place to visit if you like history.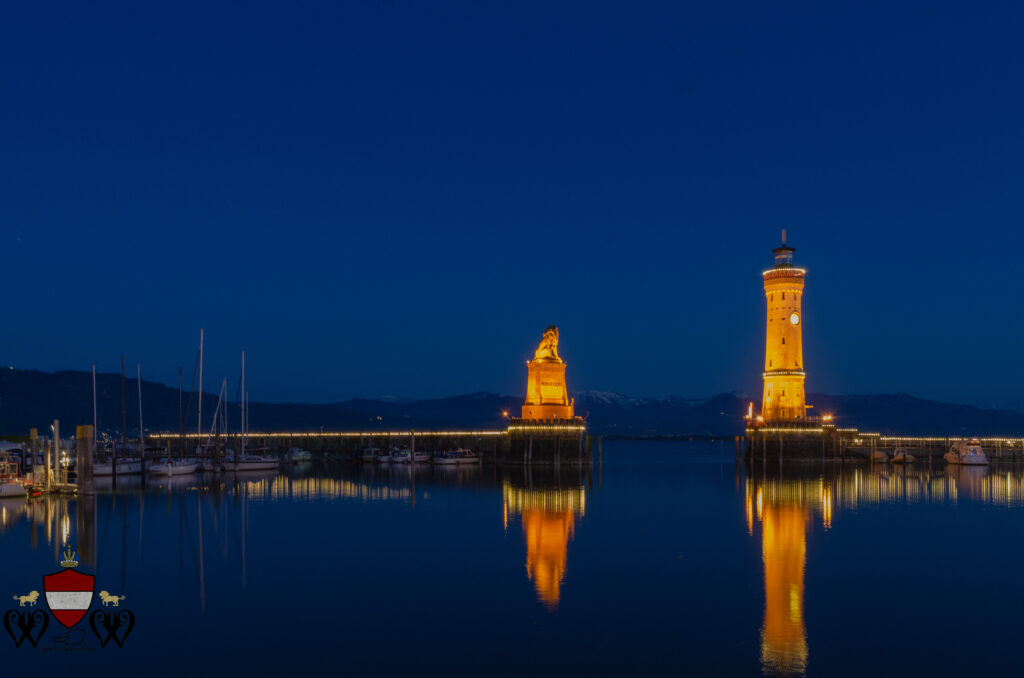 Getting There.
From Vienna, Salzburg or Innsbruck there are RailJet services to Bregenz Hauptbahnhof. Trains to Lindau are regular and it's a simple 10 minute trip to Lindau Insel station.
If you're looking to fly, The nearest airport is Alterheim-St. Gallen in Switzerland, and directly across the lake. Flights depart from Vienna two to three times a day. (Pre-COVID) From the rest of Europe Munich, Innsbruck and Zurich all offer gateways to this part of Bavaria.
Further Reading.
If you'd like to know more about Lindau, or any of the places I take about, Please check out the links below.